Metos Cooking Solutions extends Finland's expertise in large-scale professional kitchens to a global audience - Metos FI
Metos Cooking Solutions extends Finland's expertise in large-scale professional kitchens to a global audience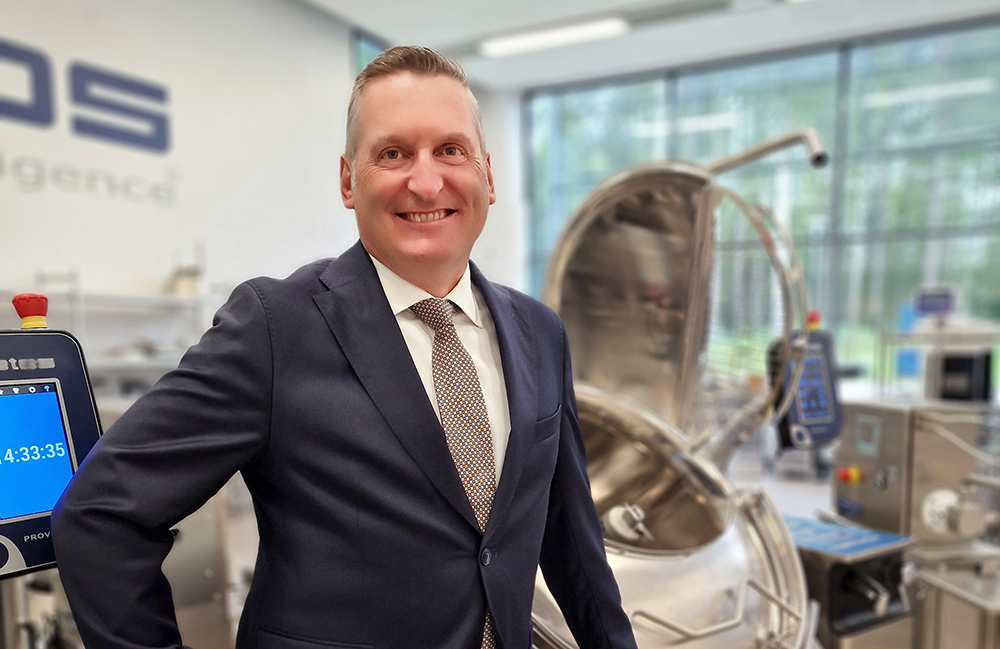 Head of Cooking Solutions (MCS) is Director Greg Archer.
Since 1931, our core strength has been the manufacture of stainless-steel kettles for large professional kitchens, initially crafting these for the Paimio sanitarium. With our revamped strategy, we're showcasing this industry-leading expertise more prominently and expanding our international presence.
The sales division, now known as Metos Cooking Solutions (formerly Metos Manufacturing), is dedicated to advancing production techniques for large-scale kitchens and catering to both international and local clients.
Head of Cooking Solutions (MCS) is Director Greg Archer.
– Previously, Metos Manufacturing played a significant role in producing a wide array of equipment, including cooking kettles, brattpans, convection ovens, ranges, food buffet serveries, drop-in equipment, dishwashing furniture, and kitchen trolleys. The transition to MCS provides the newly formed division with dedicated room and resources to concentrate exclusively on a select range of large-format food production equipment designed for mass catering and small-to-medium food factories. We are also profiling ourselves from a manufacturer to more of an expert and developer, Greg describes.
– Our overarching objective is for MCS to emerge as the global frontrunner in the realm of large format cooking solutions.
The landscape of large-scale cook chill and cook serve operations diverges significantly from the conventional kitchens. It often resembles a more sophisticated food factory environment equipped with advanced machinery for both cooking and packaging.
– This shift can present a substantial adjustment for many of our clients, and it's our responsibility to distill these concepts into easily communicable messages as their businesses expand, he says.
"We are on the cusp of redefining how food is prepared, delivered, and experienced"
According to Greg, the professional kitchen market is poised for intriguing developments in the upcoming years, driven by evolving consumer preferences, technological advancements, and sustainability concerns. The trends affecting the industry concern for example automation and smart technology, data-driven insights, innovative cooking techniques and flexibility, and modular kitchen design.
– Large format cooking is increasingly integrating automation and smart technology. This includes automated cooking processes, precise temperature control, and remote monitoring of equipment, enhancing efficiency and consistency. Data analytics is being employed to analyze production processes, predict demand, optimize inventory, and fine-tune recipes, leading to reduced waste and improved resource allocation.
The industry is grappling with labor shortages, and it is also forcing kitchens towards using technology and artificial intelligence.
– In the realm of industrial kitchens, several efficient and scalable production methods dominate to accommodate high-volume food production while upholding quality and uniformity. As the labor shortages continues, it is prompting the integration of automation, artificial intelligence, and robotics to handle tasks traditionally done by chefs, improving efficiency, and reducing dependence on skilled labor, Greg explains.
– Innovative cooking techniques like sous vide, modified atmosphere packaging (MAP), low-temperature cooking, and vacuum-sealing are being applied on a larger scale, ensuring precise cooking and optimal taste while catering to mass production. Kitchens are becoming more flexible and modular to accommodate changing menus and production needs.
Food safety and hygiene will remain top priorities.
– Advanced cooking equipment is designed with enhanced safety features, automated cleaning systems, and touchless technology to maintain stringent hygiene standards.
One trend that is likely to impact the industrial cooking market is sustainability and for example the popularity of alternative protein sources, such as plant-based and lab-grown meats.
– Manufacturers will need to adapt their cooking methods to work with these ingredients to create appealing and flavorful products. Also, there will continue to be a shift towards adopting more energy-efficient cooking technologies and methods to reduce the environmental impact of large-scale food production.
– In essence, the future of large production kitchens is a blend of technology, sustainability, personalization, collaboration, and adaptability. As an industry, we're on the cusp of redefining how food is prepared, delivered, and experienced on a grand scale. We're at the brink of remarkable developments that are set to reshape how we approach large-scale food preparation, Greg says.
Metos is a high-quality brand internationally
According to Greg, The Metos brand, equipment, and the large production kitchen concept are perceived as quality-driven, innovative, and professionally-oriented solutions for the food industry. Positive associations with scalability, customization, and sustainability contribute to a favorable image within the culinary and commercial sectors.
– Metos Cooking Solutions will continue to establish itself as a forward-thinking leader in large production kitchens, introducing cutting-edge technologies and solutions to redefine efficiency and quality standards. MCS will continue to champion sustainability, emphasizing energy-efficient equipment and waste reduction solutions. With a growing international presence, MCS demonstrates expertise in addressing culinary challenges worldwide, he says.
– As Metos will continue to highlight its role as a dependable partner, a strong customer-centric focus will stay and ensure excellent support, training, and maintenance services.
We have everything you need to make your production kitchen run smoothly!
Want to find out more? Visit Metos Cooking Solutions website: