Our product selection is expanding – presenting Metos by Merrychef - Metos FI
Our product selection is expanding – presenting Metos by Merrychef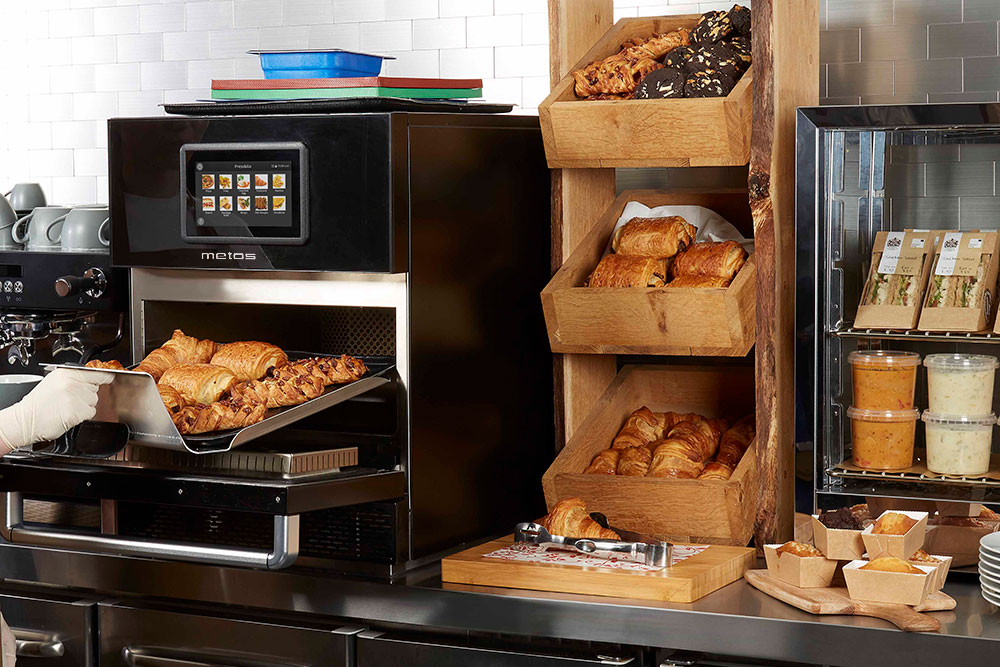 Metos wants to serve its customers in the best possible way. That's why Merrychef's high-quality high speed ovens – the best that can be found on the market – have been added to our selection.
– Merrychef's high-speed ovens are the best on the market. Our customers know the brand, and the popularity of the oven speaks for itself, says Head of Product Management Tobias Heiskanen.
What makes Merrychef the best high-speed oven? There are several reasons. The compact oven takes up little space, and thus fits neatly into every kitchen. It is safe for the user, because its outer surface stays cool. And you don't need a hood over the oven.
This stylish oven is ideal, for example, for quick cooking, roasting, grilling and heating. Toasts, pastries, vegetables, fish, meat... all of these can be prepared quickly and easily with this multi-functional oven. With the help of various color-coded trays, it can be used to prepare a variety of dishes, starting from omelets.
– The high-speed oven uses a combination of three heating technologies: circulating air, targeted roasting heat and microwaves, and thanks to these, it is really efficient, says Tobias.

The fastest high-speed oven – still compact
This high-speed oven has several features that make it popular. Firstly, of course, it's fast. Even the basic model cooks up to ten times faster than a traditional oven. The compact size helps to save expensive square footage in the kitchen, and the convenient and stylish oven can be placed, for example, on a counter. This efficient oven also saves energy, providing real savings.
However, perhaps the most important factor is the way the brand's owner, Welbilt, operates. Their principles of quality assurance and continuous development result in the ovens having the best possible features both now and in the future.
– When you buy a Merrychef product, you don't just buy a physical product. You buy all that know-how and desire to constantly develop the best product on the market. Each oven is tested before use. To guarantee high quality and reliability, the ovens are subjected to extensive technical product testing and food preparation tests, Tobias emphasizes.
This oven is perfect for coffee shops, hotels, gas stations, kiosks, shop kitchens, fast food restaurants and all other locations that require fast heating and easy preparation.

Collaboration between Metos and Welbilt
Merrychef is a brand owned by Welbilt. Since 2004, Metos has been part of the large Ali Group, which also includes Welbilt. Together, Metos and Welbilt are part of the world's largest manufacturer of professional kitchen equipment.
– For our customers, this is a big advantage, as it means we have wide variety of ways to fulfill the customer's wishes, summarizes Tobias.
In practice, what our collaboration with Merrychef means to the customer is that Metos can deliver all spare parts and technical support, user training and, of course, Metos' high-quality maintenance service for the high-speed oven.
The front panel of the high-speed oven has been designed with the visibility of our collaboration in mind. That's why the panel also includes the text "Metos by Merrychef".
– We are very happy about our collaboration with Merrychef and it is off to a good start, Tobias rejoices.
Interested? For more information, contact our sales!
Metos by Merrychef conneX12 in the webshop: